Every great sauce has to have some great recipes to go along with them. I can tell you that I am not a person that goes 100% by a recipe out of many great cook books, I like to experiment with different ingredients and make it my own. I can tell you this, Judge Cline's # 9 goes great with everything. GIVE IT A TRY. It might change your friends, family, or guests mind about your cooking! Go from a good cook to a great one. A family member says "it is great on everything but vanilla ice cream". So please feel free to experiment and learn from other recipes to make it your own. Venture out and learn something new about yourself and enjoy cooking.
The following are guidelines/suggestions. I am not wanting you to change what you are doing in the kitchen. I just want to broaden your cooking techniques and let you in on some of my secrets that I have learned throughout the years.
Thank you for taking the time to read and order this great sauce that is changing taste buds across the country and the world.
Using Judge Cline's # 9 for MARINATING
Marinating is a great way to add spices and tenderizing the meat, chicken, fish, etc . This is a vinegar based sauce which helps flavor your choice of meat which will melt in your mouth. I suggest that you use a container or zip lock bag (it is easy to shake, rotate, press the sauce into whatever you are choosing to marinate). You can see with ease how much sauce you need to use to cover the meat, chicken, or game. I like to let whatever I am going to cook marinate for at least 8 hours, the longer you can let it sit the better up to 24 hours. If you are anything like me I can NOT wait that long. I try and start the evening before and leave in refrigerator until ready to cook.
This is an example of how I would marinate pork, as I have said use this for all meats, or winged (feathered) creatures.
Gallon Zip Lock bag
Bottle of Judge Cline's # 9
Cup of oil (canola oil is best)
Place meat in bag, add Judge Cline's # 9 until meat is half way covered by the sauce, add a little oil to help the sauce adhere to the meat, make sure bag is sealed and shake, massage, and spin bag until meat is covered. Place bag in fridge. Repeat the shaking, massaging, and spinning ever so often until ready to cook. Cook the meat until it is at desired temperature or look.
Using Judge Cline's # 9 as a BASTING SAUCE.
If you like to cook on the grill, stove, or oven Judge Cline's # 9 makes a great basting sauce. Just like any kind of sauce you can pour or use a basting brush, I like to pour myself. While cooking I like to pour the sauce on every time I flip the food or in the oven, slide the cooking tray out and pour on the food whenever the skin starts to look a little dry. Once the meat is cooked I take off grill or out of oven and bast one more time and let the meat rest till ready to serve. As always I will put a saucer of Judge Cline's # 9 on the table to allow my guest or family to have a little more if needed.
Using Judge Cline's # 9 for INJECTING
Use the fried turkey injection kit that can be found online or any supermarket. Make sure it is big enough to allow flakes of pepper to pass through the needle. Injecting your food can really add a great and unique flavor to an already great recipe. It is that something different that I want you to experiment with and make it yours. Depending on the size of the meat, turkey, chicken, game depends on how much sauce to use, more is not always better. On a 15lbs to 18lbs turkey I would use around 10oz-12oz in at least 6-8 different areas on the breast, legs, thighs as you see fit. Injecting is great because it goes with all types of cooking – Baking, Frying, Grilling and work with any meat you can think of. I even injected a T-bone steak and got great comments from my dinner guest. Be a little adventuresome, give it a try and let us know what you friends say, just don't forget to use Judge Cline's # 9.
Using Judge Cline's # 9 to COOK with
There are many ways to use this great sauce. I have used it in making MEATLOAF, as the final addition to steamed SHRIMP and VEGETABLES. When I say this, really believe me "the sky is the limit". It can be used in all kinds of great recipes of yours or something that caught your eye in a book or online. If you like to eat healthy, there are no calories or carbs in the sauce. If you are not so concerned with watching your figure you can add some brown sugar to sweeten it up bit
Our Family's BBQ Recipes:
A TWISTED BEER BUTT CHICKEN
Instead of using a whole canned beer, drink 3/4 of the beer then fill the can half way with Judge Cline's # 9 and insert the can into the cavity of the chicken and cook. Now that sounds like a great idea!!!
Using Judge Cline's # 9 to enhance an ADULT BEVERAGE
Now not only does this amazing sauce go great with cooking, making appetizers, and veggies it also serves as a great mixer. Here are a few recipes to try while cooking or entertaining.
JUDGE'S BLOODY MARY MIX
48 oz V8 juice
1/4 tsp celery seed
12oz grapefruit juice
6oz Judge Cline's # 9
Your preference of vodka and amount. I prefer Titos.
Kickin Red Beer
Pint glass beer of choice, I prefer a light beer
1oz Judge Cline's # 9
4oz of tomato, V8, Chimato juice
Grilled Chicken with a KICK!
Chicken (bone in, boneless, skinless – breast, thighs, your choice)
Cline's # 9 sauce (enough to marinate chicken pieces)
Levi's Rub
Place chicken pieces in zip-loc bag, cover with ¼ cup +/- of sauce, marinate for a couple of hours or up to overnight. FIRE UP grill! Remove chicken from bag, sprinkle generously with rub. (Some folks roll chicken in rub for a thicker coating) cook's preference. Cook chicken on grill until done! Serve with favorite veggie, salad, potato salad, etc!
Levi's Rub DIP (Quick n EASY)
1 package cream cheese – softened
One small container sour cream or One 8oz container of small curd cottage cheese
One cup plain Greek Yogurt
¼ cup of Levi's Rub
Mix together and let flavors blend overnight OR at least an hour in fridge. Serve with chips or veggies.
Cline's #9 Sauce with a Sweet Kick
1 stick butter
1 cup brown sugar
1 cup bourbon
½ bottle or more of #9
Melt butter, add brown sugar, bring to slow bubble and stir to keep from burning.  Cook until sugar is dissolved.  Remove from heat, let stand to cool slightly before adding bourbon and sauce.  (If butter/sugar mixture is too hot the bourbon and vinegar will evaporate).  Use as a dressing sauce on meats or veggies.
Judge Cline No.9 Pork Roast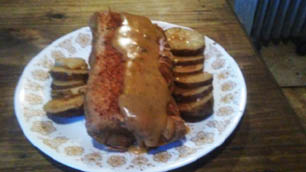 When I received my first bottle of Judge Cline's #9 BBQ Sauce, I automatically fell in love with it. As anyone that has eaten my cooking knows, I love new flavors and unique ideas. Judge Cline's is unique because it's so versatile.
Unlike that old commercial, it can literally go on everything and will enhance the flavor of anything. This is a simple recipe that can be prepared in just a few minutes and be left alone to cook until you get ready to eat it.
What  You Need:
1  Pork shoulder roast or pork loin (any cut of pork that will fit in your cooking vessel)

3 tbsp Judge Cline's Levi's Rub

1 Onion (sliced or quartered)
How to Make It:
1. Rub your roast with 2 tbsp of Levi's Rub on both sides until coated
2. Place roast in crockpot (or cooking vessel of your choice)
3. Place our onions, carrots, and potatoes around the sides of the roast
4. Pour water into the pot ON TOP OF THE VEGETABLES, enough to cover the roast.
5. Sprinkle the rest of Levi's Rub over the vegetables
6. Cook on low heat (around 200-225) or where the water wants to boil but doesn't quite get
there.
7. Go watch college football (including pre-game).
8. The roast should be ready in about 4-6 hours for non-football fans.
9. You can tell when it's ready when the meat pulls apart easily.
10. Serve with Judge Cline's #9 BBQ Sauce.
Serving Suggestion:
I like to save the broth from the roast and make a mushroom gravy to serve with it. You'll have to find your own recipe for mushroom gravy because I haven't perfected mine yet.
Well there you go, hope you decide to try some of these suggestions and it helps you see that Judge Cline's # 9 can be used in a variety of ways. Step out of an old recipe and try some new things, you might just find out you have discovered a new wonderful dish all you friends and family enjoy, may even come up with your own recipe book. if that happens just give us couple of mentions, please. Thank you again for taking the time to read and please let us know what you think and send us some of those great recipes to help out the other Oconee River Sauce Company family members.